DEL, proud distributor of Karnak products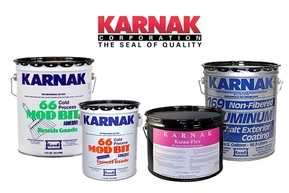 DEL has become the leader in Ontario for Karnak products and in stock position. You have a repair problem we have the Karnak solution!
How do you deal with a metal roof?
Many roofers have run away from this type of roof or have quoted the customer a job that consists of strapping or filling the metal flu and doing a complete over top with a two part mod bit or a single ply membrane.
Karnak to the rescue with several solutions for this growing problem! We at DEL have had the good fortune to work with a couple of contractors in Ontario who have taken on and restored tired old metal roof systems. Karnak has come up with products and a confidence to handle these projects with a material warranty of 10years
The project on the Kingston Fire Station in the patina green and the brilliant white of the Raxx restaurant building, also in Kingston, were fantastic opportunities for DEL
The knowledge gained and experience of producing a roofing membrane right on the old metal panels using the karnak product was priceless. Very few product distributors have the skill set to accurately explain, with practical experience the application of these roofing systems.
Single Ply Membrane Repair?
Spin holes, cracking PVC (which is difficult to weld to), brittle TPO and tired EPDM how do we repair these situations? Karnak has the solution again- Karnaflex seam sealer and Karnak 502 when used correctly on aged single ply membranes will restore and prolong the life of your existing single ply membrane roof.
Do you like this story?